COLLEGE STATION — It will be winner-take-all on Saturday with a trip to the UIL State Softball Tournament on the line.
Liberty took a 7-1 win over Bullard on Thursday night at Texas A&M's Davis Diamond following Bullard's 5-4 win in nine innings on Wednesday. Game 3 will be at 6 p.m. Saturday back at Davis Diamond.
"Saturday is a whole new day, and we will come out and give them everything we have, for sure," Bullard head softball coach Julie Murry said.
"We want to be the best version of who we are. I looked at them earlier in the game and said I'm not sure who y'all are because you're not the team I'm used to. So we just want to come back out and be the best version of us."
Kirstin Malone got a one-out single in the top of the first for Bullard. After hitting her 23rd home run of the season to end Game 1, Hadi Fults was intentionally walked to put runners on first and second with one out. Taylor got Teagan Graul to fly out to center and then got Matti Nix to ground out to short to end the frame.
Liberty struck early. Bailee Slack and Reese Evans both walked before Hollie Thomas hit an RBI single to give Liberty a 1-0 lead. Anistyn Foster forced two straight flyouts and a groundout to keep the deficit at one.
Kylie Pate drew a two-out walk for Bullard in the top of the second, but Saelyr Hunt grounded back to Taylor for the third out.
Taylor helped her own cause with a solo home run off of the scoreboard in left field to start the bottom of the second inning. After two straight outs, Slack walked, and Evans hit an RBI double to push the score to 3-0.
Fults drew her second intentional walk of the game in the top of the third, but that was the only baserunner for Bullard in the inning.
Taylor drew a two-out walk in the bottom of the third, but Foster struck out Abbie Key for her second strikeout of the inning to keep the score at 3-0.
Matti Nix walked to start the top of the fourth, and Kamyn Honzell followed with an infield single. Pinch hitter Baylie Walker hit a low line drive to left field, and Bryana Pantalion made a diving catch for the first out. After Kylie Pate's sacrifice bunt moved up the runners, Hunt grounded out to second to send the threat.
"They made a lot of great defensive plays," Murry said. "Multiple times, I just wanted to tip my cap to them."
Liberty loaded the bases with no outs in the bottom of the fourth. Freshman Brooklyn Brannen came in to pitch for Foster. A two-run single by Thomas pushed the score to 5-0. Liberty later got an RBI groundout by Kylee Bishop in the inning to score Evans to make the score 6-0.
Fults received another intentional walk with two outs in the fifth inning, but the shutout remained intact.
Liberty added a run in the bottom of the fifth on an errant throw trying to catch a runner stealing second base.
Dakota Payne had an infield single with two outs in the sixth for Bullard, but Taylor came back with a strikeout to end the half inning.
In the seventh, Callie Bailey singled with one out, and Malone hit a ground-rule double. Fults was intentionally walked for the fourth time before Teagan Graul drove Bailey in with a sacrifice fly. Taylor then got Nix to pop out to second base to end the game.
Bullard had five hits, six walks and 10 people left on base.
"I think we did leave people on base," Murry said. "I thought we showed spurts with a lot of competitiveness. Hats off to them. They played a great game today. We knew they were made of a lot of tough stuff, so that's not a surprise to me that they really came out played well. I want to see us play to the best version of who we are, also."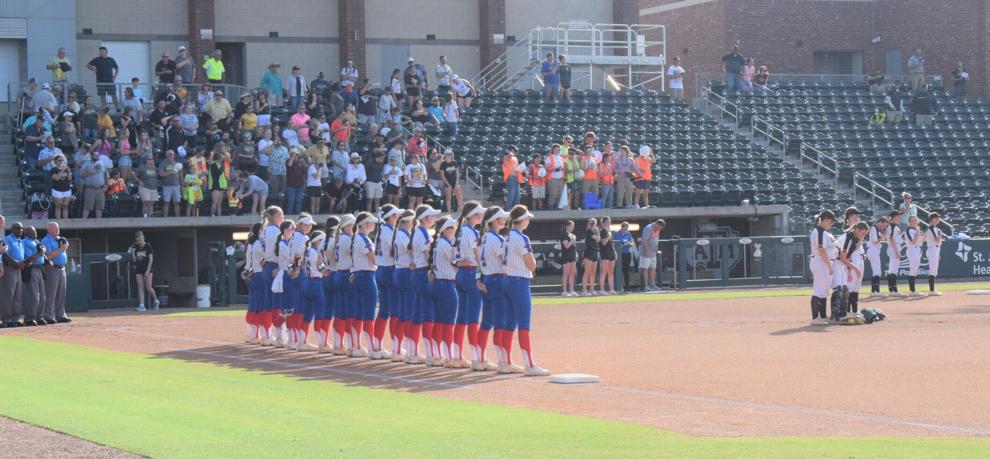 Taylor allowed one run on five hits with four strikeouts and six walks in seven innings.
Slack, Evans and Thomas all had two hits for Liberty (35-8), and Thomas drove in three runs.
Foster allowed six runs — five earned — on five hits with two strikeouts and six walks in three innings. Brannen allowed one unearned run on four hits in three innings.
Malone had two hits for Bullard (38-4). Bailey, Kamyn Honzell and Payne all had a single.